Eagle Trends Handyman Services
If you are looking for professional handyman services in the UAE, then look no further! In this guide, we'll cover the range of services these handymen provide. Why they are important to have in any home or business. What the process entails when hiring one and some tips on making sure you get the best service available. Whether it's plumbing, electrical work, or carpentry assistance, this guide will help find the perfect handyman for your needs. Contact EAGLE TRENDS for Reliable Handyman Services In UAE.
Eagle Trends Handyman Services In UAE.
Plumbing services are essential in helping maintain the pipes, fixtures, and other plumbing systems in buildings. This includes dealing with clogged drains and broken pipes. As well as the installation of new appliances that require plumbing work. Handyman services in the UAE cover everything from emergency repairs to routine maintenance and pipe replacement.
Electricians provide a range of services related to all aspects of electrical wiring and fixtures. They may offer repair services for existing problems or installation of new equipment. Such as lights and heaters. Additionally, professional handyman services in the UAE can detect any wiring problems or potential hazards hidden behind walls. Also, beneath floors, before they become serious issues.
Carpentry is an important part of any building project or repair job that requires installing doors, furniture, flooring or ceiling joists, etc. Professional carpenters are experts in their craft and offer top-notch handyman services in the UAE. When it comes to repairing wooden surfaces like decks or patios and constructing shelves. Also, cupboards, putting together furniture pieces quickly, fixing windowsills & door frames, and much more!
Bricklaying is an important part of home improvement projects. Such as adding extra walls for privacy or reinforcing cracks around windows and doors caused by settling foundations over time. Professional bricklayers have experience doing this kind of handyman service in the UAE. They may also be hired to add features such as outdoor fireplaces or grills to enhance outdoor living areas during the summer months!
Drywall Installation & Finishing Services
Drywalls are a major component used to construct walls inside buildings. They're usually made from lightweight materials such as gypsum board. Which makes them easier to install than traditional bricks or blocks. This means that professional handymen provide drywall installation & finishing services in the UAE. Will be able to get your project done quickly without compromising on quality results!
Painting is one of those jobs most people prefer leaving to professionals who know their stuff. This is especially true when covering large surface areas such as ceilings or entire rooms all at once! Professional painters know how to prepare surfaces correctly before starting their project so you can be sure. You'll get the best possible end result when you hire a handyman provider offering painting services in the UAE!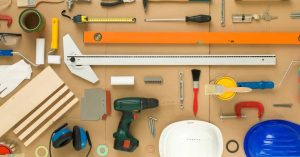 A/C Unit Repair & Maintenance Services
Having an air conditioning unit running smoothly during the summer months can be quite tricky. Considering most units break down due to wear & tear over time. It pays off to have a reliable professional to help keep your AC unit working properly throughout the year! From general maintenance checks & emergency repairs, all the way up to full-on replacement installations when necessary. UAE-based handymen have you covered on these fronts!
The Ultimate Nursery Makeover
Have you recently welcomed a little one in your family, or expecting another addition to the clan? Then it's time for a nursery makeover! Transforming your nursery into an inviting and fun space for babies can be a daunting but immensely rewarding task. With our guide on how to achieve the ultimate nursery makeover. You can customize and create an environment that your child will love, cherish and grow in.
Installing smoke alarms is a critical safety measure to protect you and your family. Smoke alarms should be placed in hallways outside all bedrooms, in basements, and in other areas of the home where smoke may accumulate. These devices alert residents to potential fires by emitting loud sounds when they detect smoke. Proper smoke alarm installation requires. Finding an optimal location for the device that minimizes false alarms without compromising protection from fire and smoke. Care must be taken to ensure that the device is properly maintained so that it can perform its duties effectively.
Assembly Of Flat Pack Furniture
Flat-pack furniture requires assembly and this can be an intimidating task at first. However, with the right tools, some patience, and a few simple steps, you can assemble flat-pack furniture quickly and easily. To begin, always read through the instruction manual to get familiar with the components and steps required. Gather all the necessary tools before starting in order to avoid frustration during assembly. Then carefully unpack your purchase and make sure that all parts are present and undamaged. Before following the instructions step-by-step until complete!
Cables can easily become an unsightly mess if not taken care of properly. An effective way to keep your cables in order is by shelving and tidying them. Utilize cable ties, boxes, or sleeves to group cables together and store them away from other components in the system. This will help make sure your cables are orderly, organized, and out of sight for a cleaner look!
Putting Up Curtains And Pictures
Installing curtains and pictures can be a great way to spruce up the look of your living space. When putting up curtains. It is important to choose the right type of rod for the desired look and hang the curtain rods at least 4 inches above the top of your window frame. To mount pictures, find a location on the wall that allows enough distance between each picture. Use appropriate nails or wall anchors based on the weight of each picture. Make sure each picture is hung straight and level before moving on to another task! Click Here To BOOK NOW…